The My Account app is the simplest way to manage your Cogeco account at home or on the go, using an Apple or Android phone. Download the app from Google Play or the App Store, or scan the QR code below: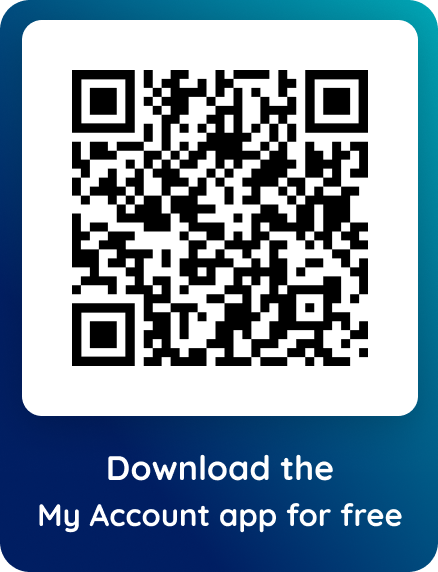 The app is easy to navigate. Once you're logged in, just tap an icon from the bottom of the screen:
Services


The main Services page lists the packages you're subscribed to. Select a service to view your package details, including recent one-time charges and usage fees.


Select the Equipment tab at the top of the page to view your equipment and troubleshoot any issues.
Billing

The main My Bill page shows your current balance, most recent bill and payment method.
Select the History tab at the top of the page to view previous bills from the last 24 months.
Support

The Support tab gives you quick access to our support content and ways to contact us. Enter any topic in the search field to find relevant articles, or select a topic to explore on your own.
Select Contact us to view contact info and call us directly if you're using a mobile phone, or select Chat with us to chat with us directly through the app over text.
Settings

The Settings tab lets you view and update personal information, as well as your account settings.
Personal information - View your account name, address and contact numbers, and edit your contact addresses.
Payment settings - Update your pre-authorized payment and eBilling settings.
Biometric authentication - Enable biometric authentication to log in with fingerprint ID or facial recognition, depending on your device.
Language - Change the app language to English or Français. By default the app will match the language your device is set to.
Log out - Log out of the app.
Good to know:
When you subscribe to Cogeco, we'll create your My Account profile automatically and send you an email with a link to complete the registration.
If you can't find this email or if the link is no longer valid, you can also register here.
The My Account app is not currently available to former DERY/Axion customers who migrated to Cogeco.