Step 1: Check to see if other devices are affected
If only a single device is out, troubleshoot the device.

If this is affecting all of your devices, continue to the next step.
Step 2: Check for outages
Visit our Reported Outages page and enter your postal code to see if there is an outage affecting your area (see Residential or Business outages, or see here for more detail).
Step 3: Check for lights on the front of your modem
The light patterns are different on each model and can change depending on how it's being used, but there should be some lights on the front of the modem. See below for examples, or learn more about resetting a fibre optic modem.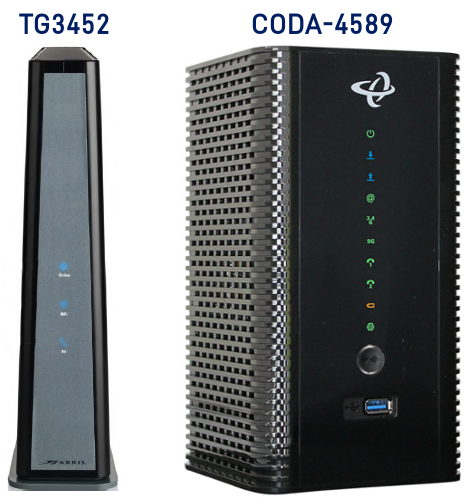 If there are no lights:
Check the power supply to make sure it's plugged into an electrical outlet and fully inserted in the back of the modem.

Try a different outlet.

If the modem is plugged into a power bar or other switched outlet, make sure it is turned on. If possible, also try bypassing the power bar and connecting directly to the outlet.
Step 4: Check the connections
There should be a coaxial cable running from the wall to the back of the modem. Ensure the connections are finger-tight. Don't use a wrench as this can damage the equipment.
Learn more about checking connections on a fibre optic modemm.
Step 5: Reset your modem
Unplug the power from your modem for a few seconds or, if your modem has a battery back-up, press the reboot button (for more detail, refer to our article on resetting your modem or resetting your fibre optic modem).
Step 6: Contact Technical Support
If your Internet service is not restored, please contact Technical Support for assistance.