If you're having issues with your Internet signal, we may ask you to check connections as one of the troubleshooting steps. See below for connections to check on a fibre optic modem.
Note: The cable connections are not accessible on the Calix 725 model.
Modem Rear (Sagemcom F@st 5681 model pictured)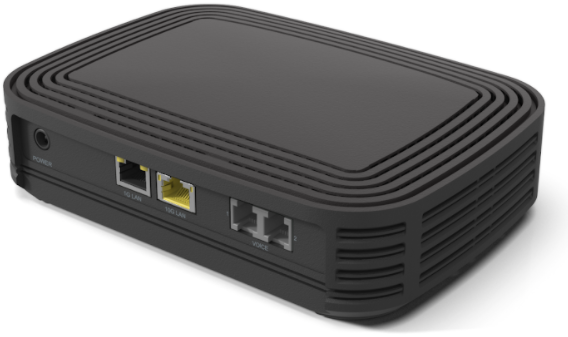 Power Cable
Make sure the power cable is securely plugged into the back of the modem.
It is recommended that the power adapter is not plugged into a power bar or switched outlet that may be turned off.
Ethernet
Make sure that only the 1G LAN port is in use. Learn more about Ethernet connections.
The Ethernet cable should be connected to a Wi-Fi Pod (note that this cable may be routed to another room to provide a more central location for the pod).
Phone
If you have Home Phone service, there should be a phone line connected to Voice 1. This may be plugged into a phone outlet to distribute the signal to other rooms in the home, or to a cordless phone base station.
Voice 2 should only be in use if you have a second phone line with Cogeco.
Modem Bottom (Sagemcom F@st 5681 model pictured)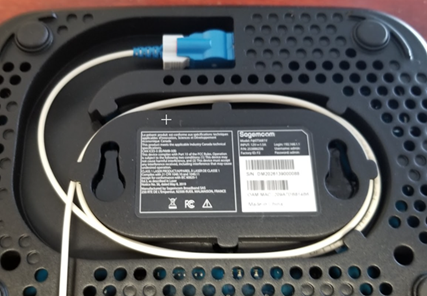 Fibre Optic Cable
Check to make sure the connector is securely plugged into the fibre port.

Look for a blue connector for the Sagemcom F@st 5681 or a green connector for the Calix 803/812.

Make sure the connector at the other end (green) is securely plugged into the fibre wall plate.
Warning: If you unplug the fibre optic cable, make sure to leave the shutter closed and do not look into the end of the connector. The laser light from the cable is not visible but can cause serious damage to the retina of your eye.