See below for light patterns for each modem type.
Note: If you have a Calix 725 model, the modem will not be accessible to check the lights.
Sagemcom F@st 5681
The fibre optic modem has 3 status lights. The long light on the corner of the unit indicates the Internet status, and the 2 smaller lights beside it indicate the phone status. See below for what each colour and light pattern combination means.
Status (Internet)
Off
No power to the unit
Blue - Solid
Internet service is active
Blue - Flashing
Unit is powering up and/or finding a connection
Red - Flashing
Unit is not connected or not set up for Internet
Alternating Red and Yellow
Loss of signal
Voice1 and Voice2 (Phone)
Off
Unit is not set up for phone, or is unable to establish connection
Blue - Solid
Phone service is active
Blue - Flashing
A phone is off the hook
Note: Voice2 will only be lit if you subscribe to a second phone line.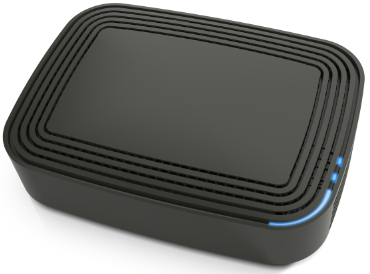 Calix 803 or 812
Power
Off
No power to the unit
Green - Flashing
Unit is booting up and performing self-tests
Green - Solid
Normal operation
Red
Boot-up failure
Amber - Flashing
Unit is performing a software upgrade and may reboot when complete.
Broadband
Off
No fibre signal detected
Red
Fibre signal detected but failing to connect
Green
Normal operation
Service
Off
No Internet service (no physical connection or unit not set up for Internet)
Green
Normal operation
Ethernet
Off
No Ethernet connected, or connected device not powered up
Green - Solid
Device connected to Ethernet but no traffic present
Green - Flashing
Normal operation
Phone
Off or red
Unit is not set up for phone
Green - Solid
Normal operation (phone on-hook)
Green - Flashing
Call in progress