To access the main menu in the EPICO app on a streaming device, press the Back button on your device's remote.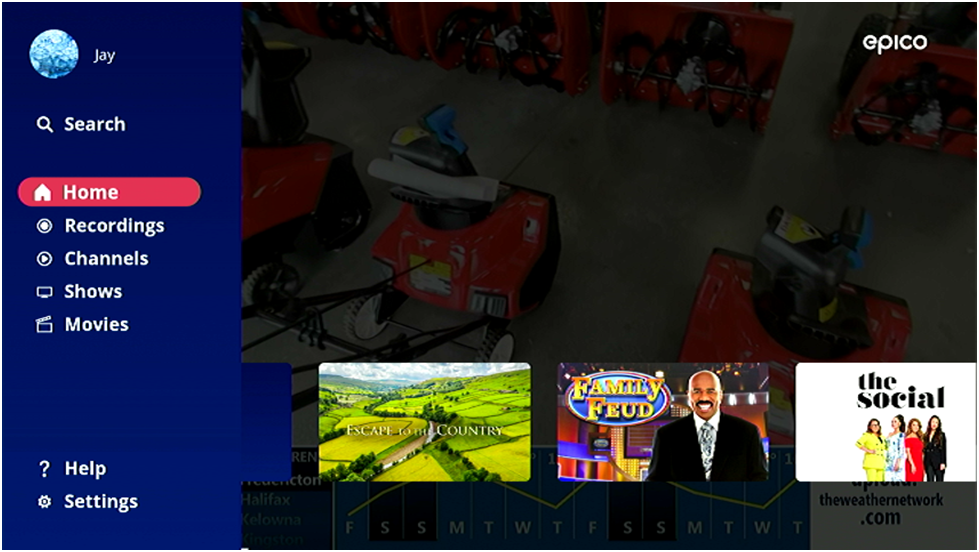 Here's what you can do from the main menu:
Profile - Change profiles or manage existing profiles.
Search - Search for shows, movies or people.


Note: On compatible devices, you can also use voice commands on your streaming device's remote while on the Search screen.

Home - View personalized content, including Live on my favorite channels, Continue watching, My list, Recommended for you and Rented or purchased. Learn more about EPICO's personalized section.
Recordings - View and manage your recordings in the DVR Manager. Learn more about managing your recordings.
Channels - Discover channels through sections such as Trending Live, Recently aired, On demand channels and Freeview.
Shows - Discover shows through sections such as Upcoming shows, New arrivals, Popular and By genre.
Movies - Discover movies through sections such as New arrivals, By collection, By genre or Last Chance, or in seasonal themes.
Help - Watch the EPICO Feature Tour.
Settings - Change app settings such as language, parental controls and accessibility options.
Good to know:
In some sections, pressing Back may take you to another part of the screen, such as the Filters section in the Guide. Press Back again to open the main menu.
If you are in a submenu, you may need to press Back a few times to get all the way back to the main menu.
You can also use the Left arrow button to access the main menu from some sections, but this won't work in a section where you can also scroll left, such as the Guide.
At the top of most menu sections, you can select Back to [program title] to close the menu and return to live TV.
In most menus, you can also access additional options when a program is selected. The button to access additional options varies by device (e.g. long-press the OK/Select button, or press the * button).
If you use your iPhone or iPad as a remote for your Apple TV, this will also work in the EPICO app. Learn more about using your iPhone or iPad as a remote.