Power - Turn your EPICO box on or off.
Record

Press once to start recording the program.
Press twice to cancel the recording, or to start a series recording if the program is recurring.
Press three times to cancel all recordings of the program, including series recordings.

Guide - Display the programming guide.
Films - Display all films available on Video on Demand.
Home - Display the main menu.
Live TV - View the current channel live.
Google Assistant - Use Google Assistant to search for content through voice commands.
Channel (Up/Down) - Use to change the channels, or move quickly through the programming guide.
Option - Contextual navigation button. For example, when in the full-screen programming guide, jump to filters.
Last - When on Live TV, tune to the last watched channel.
Keypad - Use to enter information.
Mute - Activate or deactivate the sound.
Volume Control - Control the volume.
Back - Return to the previous page.
Navigation Arrows - Navigate the user interface menus.
Netflix - Launch the Netflix application.
Playback Functions - Control playback: Pause, Play, Rewind, Fast Forward, Skip Back, and Skip Forward.
Info - Information on the currently selected show.
TV Power - Turn on or off your TV if it is paired with the remote.
Input - Select the input for your TV.
Useful Shortcuts
Use your EPICO remote to its full potential by using these shortcuts:

The Films button: use it to access the full catalogue of movies available on demand, either for rent, purchase or from one of your subscribed channels.

The home button: brings up the EPICO menu. Use it to easily return to EPICO, even when you are in another application like Netflix or YouTube.

The Google Assistant button: use it for voice searches or commands, including many of the non-TV features available with Google Assistant , such as "add milk to my shopping list".

The option button:
Press Option to access the filters at the top of the programming guide or when you're browsing a list of content. From there, you can filter the content according to your subscriptions, the category, or the video quality.
Press Option while watching Live TV or a Recording to quickly access the Settings menu.

The CH up and down buttons: when browsing in the guide, you can use these buttons to page through the channel listings more quickly.

The Guide button: press the Guide button to open the Quick Guide, then press the Right arrow button to open the Full Guide.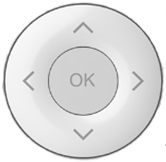 Navigation Arrows:
While watching Live TV, press the Up or Down button to access the Mini Guide. You can then change channels in the Mini Guide using Up/Down or change the time using Left/Right.
While watching Live TV or a Recording, press OK and then the Down button for more navigation options (Restart, Skip, Closed Captioning, Video Quality, Audio Language, and Described Video).
Use can also use the Left/Right buttons to Rewind and Fast Forward, then OK to resume playing.