Flow uses your Wi-Fi Pods and the Wi-Fi-connected devices to detect motion by sensing disturbances in the signal between devices. This can then be used to give you a live view of motion in your workplace, show a history of movement up to 7 days, and send you push notifications when motion takes place.
Enabling Flow
Select the Shield tab and Motion from the bottom of the Home screen.



Tap the toggle switch next to Flow to enable the feature.

Flow Alerts
If desired, the app can send you Push Notifications whenever motion is detected by selecting the Flow alerts option. It is strongly recommended that if you enable this feature you also enable Smart Activation in the Flow settings so that alerts are not sent when employee devices are connected.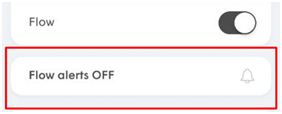 Flow Devices
When Flow is first activated, only your pods will be used to detect motion. For better coverage and accuracy, additional devices can be enabled.
Select Flow devices from the main Flow screen.



Wi-Fi-connected devices from the Secure Zone will be listed under Stationary Devices.
Tap on a device from the list to enable it to be used for Flow.

Portable Devices can also be enabled for Flow but this is not recommended as they frequently move, making motion detection unreliable.
Flow Settings
The following can be adjusted from Flow Settings on the main Flow page:
Motion Sensitivity: This can be adjusted if you are receiving too many alerts from false positives, such as from an oscillating fan or a moving curtain.
Smart Activation: This prevents motion alerts when employees are in the workplace, as determined by their assigned primary devices.
Alerts: Adjusts the minimum time between alerts.