Note: Over the coming months, Cogeco will be migrating customers to a new version of Webmail. After logging in, check the icon at the top left of the page to see which version you are on. All customers will be migrated to the new platform by the end of summer 2022.

The new Webmail also has Modern and Classic modes, depending on which browser you are using. These guides will focus on the Modern mode.
In the new Webmail, tags are a great way to quickly filter and sort your Webmail by topics you create. Tags are shared across email messages, contacts, and calendar events.
Creating a New Tag
To add a new tag, select the + button next to Tags in the left menu (only visible when hovering your mouse over Tags). You can do this from the Mail, Calendar, or Contacts tab, and any tags created will be available in all 3 tabs.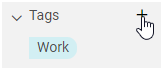 Applying a Tag
Right-click on a message, contact, or calendar event.
Select Tag from the dropdown.
Select the tag you want to apply, or create a new one.



Select Save.
Note: A tag can only be added to an existing calendar event or contact, so if you are creating a new one you will need to save it first before adding tags.
Filtering by Tags
To filter by tags, simply select the tag from the left menu in Mail, Calendar, or Contacts.