If your Cogeco modem is used for Home Phone service and was installed before 2019, you'll likely find a metal security sleeve over the cable connector to prevent it from being moved. This might be attached to the modem itself, or on a splitter the modem is connected to. In 2019 we stopped installing security sleeves in order to allow for more self-installation and more convenient service.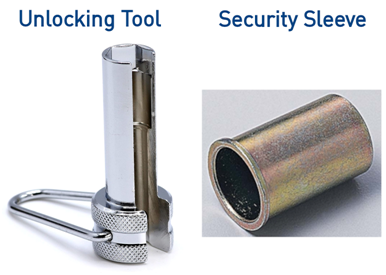 Unlocking Tool
If you're moving and need to remove the modem to take it to your new address, we'll send you a special unlocking tool.
Align the unlocking tool with the cable.
Push the tool down towards the security sleeve until it's firmly connected.
Using the handle, rotate the tool counterclockwise until the cable is separated from the modem.