To set up Internet and Wi-Fi with the Self-Install Kit we sent you, follow the steps below, or download a printable copy of the instructions. The kit includes:
ARRIS TG2472 modem (pictured below)
Coaxial cable
Power supply cable
Ethernet cable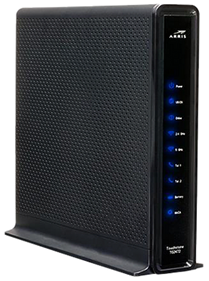 Note: If you received a different modem, see here to identify the model and get setup steps.
Caution: While you are replacing your modem, your phone and Internet services will not be operational. We recommend you perform the procedure at a time when your Phone or Internet service is not actively being used in your household.
Step 1: Remove your old equipment
If this is a replacement modem, begin by disconnecting and packing up your old equipment. If your modem has a security sleeve covering the cable connector, we'll send you a special unlocking tool.
Align the unlocking tool with the cable.
Push the tool down towards the security sleeve until it is firmly connected.
Using the handle, rotate the tool counterclockwise until the cable is separated from the modem.
Include the security sleeve and unlocking tool when packing up your modem.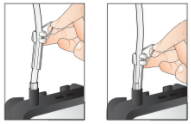 See here for steps to pack up your modem and return it to us. Make sure to follow these instructions to avoid any unnecessary charges.
Step 2: Get your Wi-Fi credentials
With Cogeco Wi-Fi Pods
If you have Cogeco Wi-Fi Pods, your Wi-Fi network will be managed through the Cogeco Wi-Fi app. After your modem has been installed, connect your first pod via Ethernet and follow the instructions in the app to set up your network (see here for more info).
Note: If you are replacing an existing modem, your new modem will automatically connect to your existing network when it comes online so no setup is needed.
Without Cogeco Wi-Fi Pods
To obtain your Wi-Fi credentials, consult My Account at cogeco.ca/myaccount.

Select Equipment from the left menu.

Your Wi-Fi name and password will be listed under Your Wi-Fi settings.

Note: For more information on managing your Wi-Fi network name and password through the modem, see here.
Step 3: Find an appropriate location for your modem
To ensure the best possible signal strength, your modem should be placed:
In a centralized location in your home (such as in a main floor living room) and near the devices you need to connect by wire, such as a landline phone.
In an open space.
3 feet off the ground.
Away from any obstacle that may block the Wi-Fi signal such as wireless electronics, or materials like metal, concrete, or mirrored surfaces.
Step 4: Connect your modem
Locate an unused coaxial wall outlet.
Connect the coaxial cable provided from the wall outlet to the cable connector at the rear of your modem. Hand-tighten the connectors to avoid damaging them.
Connect the power cord from the modem to an active wall power outlet. This will start the modem synchronization process, which can take 15 to 20 minutes.
The online light on the front of your modem will blink with a blue colour while it is synchronizing. Once the process has completed, the online indicator light will turn solid blue.
If you do not see the correct indicator light pattern after 20 minutes, try moving your modem to another coaxial outlet in the home (if available) and repeat the above process.
Good to know: If you connect your modem to a power bar, please ensure that the power bar is always switched on.
Step 5: Connect your wireless device
You can now connect all your wireless devices. To learn how, refer to our articles on Wi-Fi connections.
Step 6: Connect your phone service
If you also have phone service with Cogeco, follow these steps to set up your phone service.
If your phone uses an electrical power supply, ensure it is connected to the base of your phone.
Connect a telephone wire (not provided) from the base of your phone, and connect the other end of the wire to the Tel 1 phone jack on the back of the modem.
If you subscribe to 2 telephone lines, you may attach a second telephone to the Tel 2 phone jack.
To confirm your Cogeco phone number, dial 21# from your Cogeco phone and a message will play that will provide you with your phone number.
Step 7: Test your installation
After your installation, you will receive a text message from Cogeco confirming your installation quality level. If the signal is not good, try to tighten the coaxial cable at the back of your modem and at the outlet or see here for additional troubleshooting steps.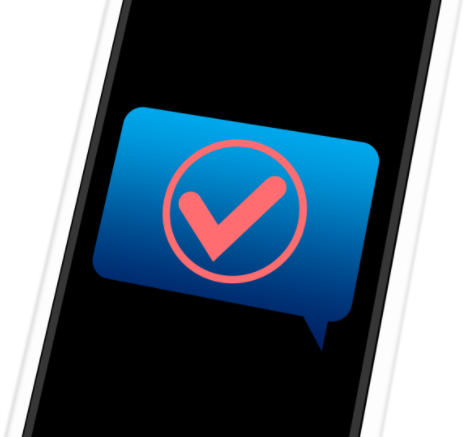 Self-Install Support
If you are having difficulties with your installation, feel free to call us at our Self-Install Support line to speak to an agent: 1-833-845-0064.