Note: Over the coming months, Cogeco will be migrating customers to a new version of Webmail. After logging in, check the icon at the top left of the page to see which version you are on. All customers will be migrated to the new platform by the end of summer 2022.

The new Webmail also has Modern and Classic modes, depending on which browser you are using. These guides will focus on the Modern mode.
With Webmail, you can search for a message that you may have forgotten about or lost.
To search for a message, follow these steps:
Legacy Webmail
Click on the Search box near the top right of your screen.
Click on the filter icon and a dropdown will appear where you can choose to filter by: Subject, Sender, To or CC, Subject or Sender, Body or you can go to Advanced Search.
Select one of the options to search by, type in the word you want to search for in the box and hit enter.
Under Advanced Search, you can search in a specific folder, or enter multiple search criteria. When searching multiple criteria, use the Match any of the following or Match all of the following options to refine your results.
New Webmail
The search field at the top of the Webmail page can be used to search your Webmail content or search the web. Use the Mailbox/Web switch next to the field to toggle between search types.

The toggle switch will have different options depending on which page you are viewing (e.g., on the Calendar page you can choose Calendar/Web).
The Web search will open a Google search in a new tab.
To perform a quick search on Webmail, enter your search criteria in the Search field.
To perform an advanced search, click the down arrow at the right of the field to open a dropdown with additional filters and specific searches.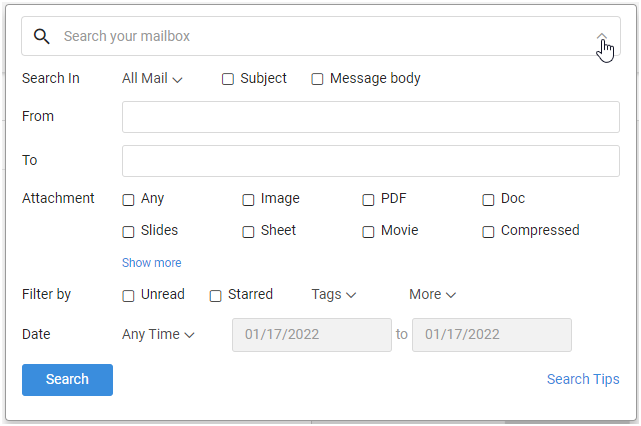 Note: In Classic mode, select the Mail tab and enter your criteria in the Search field at the top of the page.