If you hear dead air or a constant busy signal instead of a dial tone when you pick up your phone, there are several possible causes. To troubleshoot:
Check the Reported Outages page to see if you may be affected by an outage (see Residential or Business outages).
Make sure that all of your phones are hung up properly.
Check if the lights on your modem are on.
The light patterns are different on each model and can change depending on how it's being used, but there should be some lights on the front of the modem. See below for examples or refer to our fibre optic gateway article.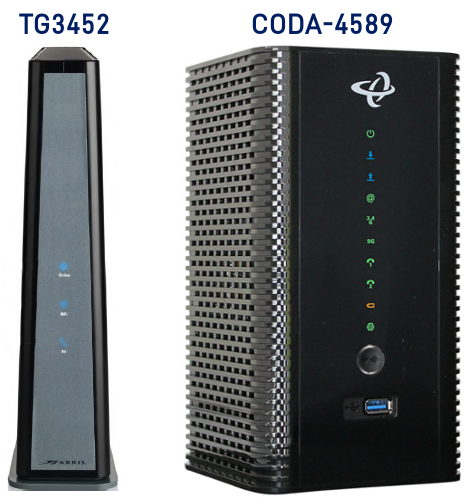 If you cannot see any lights:
Check the power supply; the black cable at the back of the modem must be plugged into an electrical outlet.
Try a different outlet.
If the modem is plugged into a power bar or other switched outlet, make sure it is turned on.
If all of the modem's lights are on:
Make sure a telephone wire is plugged into the TEL1 port on the back of the modem and into a phone jack (or directly into your phone/base station).
If you subscribe to two phone lines, make sure that the two telephone wires are properly plugged into their respective phone jacks.
If all of the modem's lights are on and the TEL1 light is flashing:
Place all wireless phones back on their bases and check if you hear a dial tone.
If not, unplug all of your phones from their wall jacks and test them one at a time:

To do this, plug one phone back into the wall jack and check for a dial tone.
If there is still no dial tone, unplug this phone and try with another phone.
If only some of the modem's lights are on:
Try to resynchronize the modem:

Use a straightened paper clip to push in the reset or reboot button at the back of the modem (the button is in a small hole).
Hold the button for 3 seconds, then wait a few minutes before checking for a dial tone. 
See here for reset instructions for a fibre optic gateway.
If these solutions do not fix the problem, please contact our Technical Support team (see Residential or Business contacts).