Cogeco does have a satisfaction survey that appears on the Cogeco.ca website. This is a legitimate survey and your participation helps us improve your experience on the website.
To make sure the survey is legitimate:
Always verify in the URL bar if the address starts with: www.cogeco.ca
If the survey asks personal data, don't answer. Our legitimate survey will never ask you any personal data.
Here's a screenshot of what our legitimate survey looks like: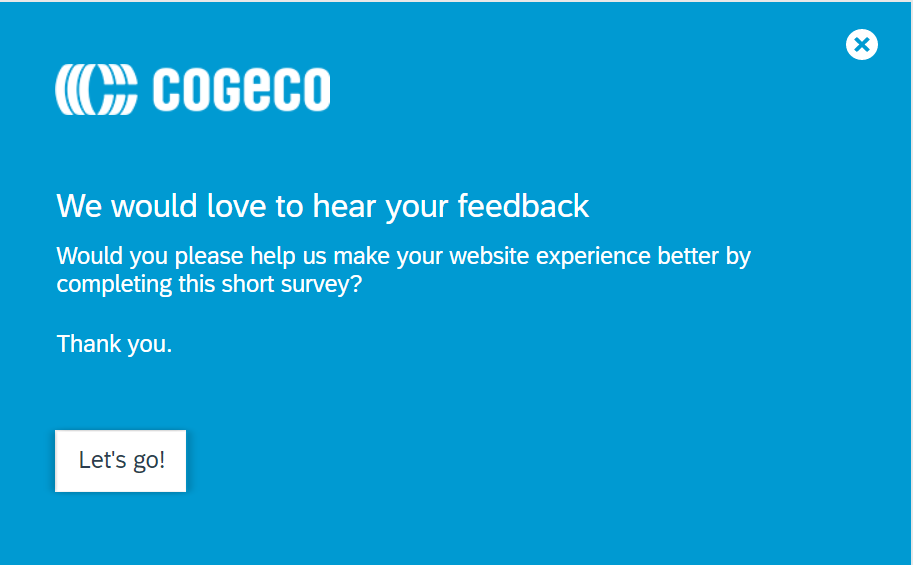 Below you will find an example of a pop-up survey which is not approved by Cogeco. It looks legitimate, but if you look in the address bar, you can see the URL is : "isp.2015-survey.com". It doesn't start with cogeco.ca/ so it is not approved by Cogeco.
Although these surveys sometimes appear to be legitimate, claim to be from Cogeco, and sometimes offer cash or other prizes, they are not legitimate surveys from Cogeco. Completing the survey may seem harmless, but it can actually pose a threat to your privacy and to your computer.
If such a pop-up or survey appears it is recommended you simply close the pop-up window without clicking on anything else and run a security scan with a recently updated security application such as Cogeco Security Services.
If you have already completed the survey you may want to use F-Secure's Online Scanner (for PC and MAC systems) to verify if your equipment has been infected with adware or malware. Other tools are available on the internet which can be used on smartphones and tablets.
You can also report the fraudulent survey to the Canadian Anti-Fraud Centre.