Before getting started: This article covers the latest version of Cogeco Security, which is available for free to all Cogeco Internet subscribers. Learn more about updating to the new version.
When you install Cogeco Security on a device, you'll have the option to sign in as yourself using your main CLIENT profile, or to sign in with a child profile. You can set separate Family Rules for each child profile to make sure they're only seeing appropriate content and/or limit their screen time.
Creating a new profile during installation
When you're prompted to set up protection for yourself or for a child, select Installing for a child.



Choose New child profile from the dropdown and select Continue.



Enter a name, choose an age range and select Next.



Set up Family Rules for the profile.

Switching profiles
Select the profile icon at the top right of the Cogeco Security home page.



On a computer, choose switch user from the dropdown. On a mobile device, select the profile name and then choose Switch user from the dropdown.
Log in with your My Account username and password.
Select My device to switch to your main CLIENT profile, or select My child's device to switch to a child profile.


When you choose a child profile, you'll be prompted to set up Family Rules, but if it's an existing profile, your current settings will already be selected by default.
You can also select New child profile from the dropdown to set up a new profile.
Managing profiles in Cogeco Security
To view and manage your Cogeco Security profiles in the app or on a computer, select People & Devices from the home page. You can do this from any device but you'll need to be on your main CLIENT profile.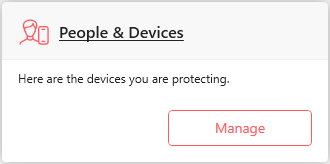 Managing profiles in My Account
Open My Account and log in.
Select Internet Security from the left menu.
Select Manage my devices.
Select a profile to manage settings and licences. Learn more about managing licences.